Uh huh, honeyyyyy.
Mississippi Roast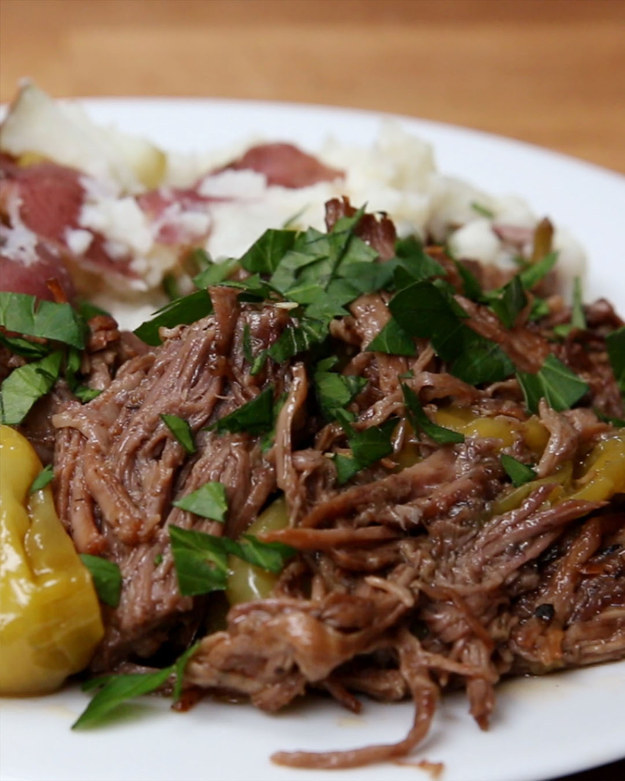 Here's a video that shows you how to make it:
INGREDIENTS
Servings: 6-8
1 boneless chuck roast, 3-4 lb
Salt & pepper to taste
1/4 cup flour
3 tablespoons canola oil
4 tablespoons butter
10 pepperoncini
2 tablespoons mayonnaise
2 teaspoons apple cider vinegar
1/4 teaspoon dried dill
1/8 teaspoon paprika
Fresh parsley for garnish
PREPARATION
1. Dredge the chuck roast in flour, salt, and pepper, and massage it into the meat.
2. In a skillet on a very high heat, brown the meat on all sides in the canola oil to create a crust.
3. Transfer the meat to a crock pot and top with butter and pepperoncini.
4. Cover the crock pot and set it to low.
5. In a small bowl, mix the mayonnaise, vinegar, dill, and paprika until well combined.
6. Spread over the meat, and cook on low for 8 hours.
7. Remove the roast and shred with two forks.
8. Return meat to the crock pot, and stir to mix in the juices. Serve with fresh parsley.
Source: Buzzfeed
Comments
comments